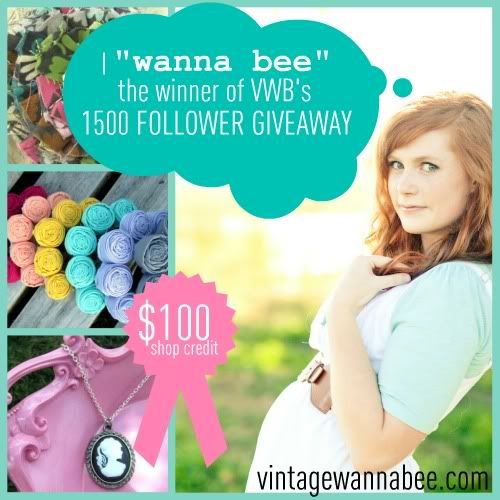 One of my favorite bloggers is having a huge giveaway!! Nichelle, the author of Vintage Wanna Bee and owner of the shop of the same name, is celebrating reaching 1500 followers (in just 1 year!) by giving away a $100 credit to her shop - just click the pic above so you can go enter too!!!
I love Nichelle's products, I have a rosette necklace and a cute little pair of rosebud earrings from her and I just ordered a Keep Calm and Carry On Necklace during her amazing holiday weekend sale over Thanksgiving weekend. Check out her shop right here :)
Nichelle's blog is so much fun to read -- she has a super-friendly writing style, is always promoting other bloggers and shops and also can also write an introspective post and really open herself up to her readers. I'm consistently inspired by her, both as a writer and a crafter. She's just great -- so go enter the giveaway!!!
PS - I'm also going to be having a couple of giveaways here pretty soon - one for Sew Mama Sew's giant Giveaway Day *which starts next Monday and runs all week* -- and one for when I reach 50 followers *just 2 more to go* Stay tuned!!